The process of outsourcing BIM services is a comparatively new concept in the building construction industry. It helps all stakeholders in sharing the information so as to make the entire process much more efficient. Over the passage of time the building construction industry has migrated from the cumbersome 2D design process to the much more accurate and efficient 3D designing resulting in unlimited flexibilities as well as the freedom to manipulate forms and shapes. Side by side the BIM outsourcing has also emerged as the new concept.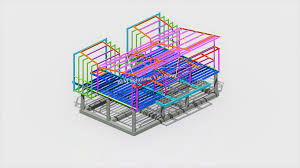 BIM services
Benefits of BIM Services
Several benefits are rendered by the BIM or Building Information Management process for the stakeholders including designers, contractors, and engineers. These include better coordination and collaboration, conflict detection and risk management, faster and economic drafting without compromising with quality, high levels of flexibilities and customization facilities, schedule optimization, cost efficiency, and ease of maintaining the building life cycle. Thus BIM modeling has emerged as a revolutionary concept.
Need for Outsourcing BIM Services
BIM is digital representation of physical as well as the functional characteristics of the building process. It can present a more comprehensive overview of the process to all the stakeholders. In result the building construction becomes more qualitative and cost efficient. It forms a reliable basis for decision making and since the work is highly technical in nature the concept of outsourcing BIM services has made its appearance in the building construction industry.
While 3D designing enables one to have a look at the three dimensions of width, height, and depth; BIM ensures visualizing two more dimensions, namely, time and cost. Only a competent provider can help in carrying out the process making outsourcing the preferred option.